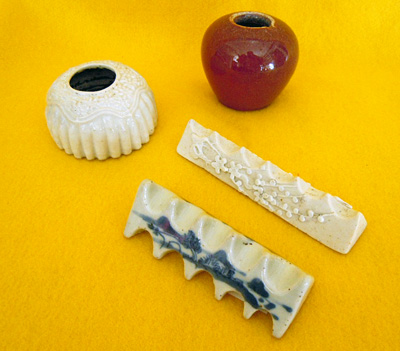 #GW12
A group of 19th century Chinese porcelains for
the scholars table.

Top left: A Chinese porcelain white glazed beehive form brushwasher with floral and fluted molded
decoration. 19thc.
2 1/2" Diameter, 1 1/2" H
Top right: A Chinese porcelain flambe' glazed
brush washer 19thc
2 1/2" H 2 1/2" Diameter.

Center: A Chinese carved bisque porcelain brush rest with prunus decoration, 19thc.
3 5/8" Long, a 1/8"H
Bottom: A Chinese porcelain brush rest with underglaze blue painted landscape decoration. 19thc.
4 1/2" Long, 3/4"H